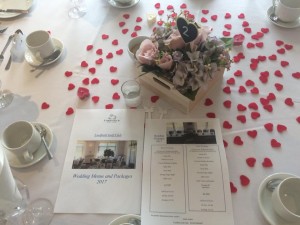 Lindfield Golf Club represents an excellent choice for those seeking an outstanding location in which to celebrate their special occasion.
We are able to offer the best in both comfort and convenience. We are situated in a nice, quiet and peaceful setting in the heart of some lovely Sussex countryside, yet easy to reach within ten minutes of Haywards Heath and its road and rail links .
Weddings receptions, birthday and anniversary parties and funeral receptions can all gladly be catered for.
No two events are the same and for that reason we prefer not to offer set packages, but rather meet with you to discover your specific requirements and then set about meeting and exceeding your expectations.
Our catering team are outstanding and experienced in catering for functions, with the superb cuisine matched only by the excellent level of service.
The dining room can seat up to 80 people, while we can accommodate up to 150 if you would prefer a buffet and can even put a marquee outside to cater for larger numbers.
With a large car park, comfortable welcoming clubhouse and our caring staff, you really cannot go wrong at Lindfield.